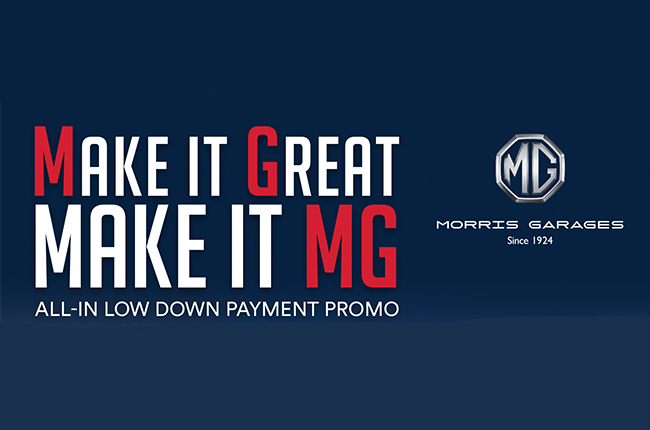 The Covenant Car Company, Inc.(TCCCI), the distributor of MG and Chevrolet in the Philippines believes that for new buyers, the main question during the process of selecting a car is: "Am I buying the right one?" This is just one of many questions a prospective car buyer might ask. Customer service, aftermarket support, product quality, and if the price fits in the buyer's budget are all key points that a consumer considers in buying a new vehicle.
For a car company to answer these questions, it will need to give the customer a great experience when choosing their vehicle. That's why the British carmaker believes that a dealership should give the customer a great car and product experience in order to show them that they are making the right choice in buying one of its vehicles.
With MG Philippines' latest promo "Make it great, Make it MG" that runs until the end of September 2019, buyers can avail of great deals on all MG cars and take advantage of the numerous perks that come with owning an MG vehicle.
The MG RX5 Style can be had for as low as P58,000 with MG's all-in low down payment option. Cash discounts are also available for the RX5 starting at P60,000 for the Style and P40,000 for the Alpha variant. The RX5 retails for P1,058,888 for the 1.5T MT Core variant, P1,228,888 for the 1.5T AT Style variant, and P1,298,888 for the 1.5T AT Alpha.
The ZS Style Plus, on the other hand, can be had for as low as P18,000 with a cash discount of P70,000 for the Style and Alpha Plus, while the Alpha variant gets P80,000 off. The ZS crossover starts at P818,888 for the Style 1.5 MT variant. Its automatic version of the same Style trim starts at P868,888. One tier up, the Alpha Plus variant starts at P898,888, while the top of the line variant the Alpha is priced at P998,888.
Not to be left out, the MG6 is also included in the promo with a low down payment option available starting at P88,000 for the Trophy variant. The MG6 retails at P1,068,888 for the 1.5T ZTST Alpha with a cash discount P25,000 and P1,188,888 for the 1.5T ZTST Trophy with a cash discount of P60,000.
Every MG purchased from MG Philippines comes with a 5-year or 100,000km warranty whichever comes first, included also is a 1-year free periodic maintenance service. The free periodic maintenance, however, does not clarify if it includes parts and or labor.
Latest News
A move to help curve the rising cases of COVID-19.

The Toyota GR Hilux could see a V6 diesel engine when the rumored model launches.

Proving that Mazda's Kodo design language is both sleek and elegant.