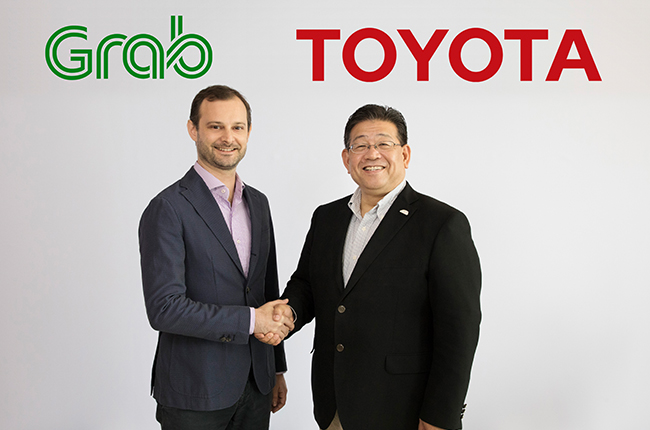 Toyota Motor Corporation has further strengthened their partnership with ride-hailing companies by offering a set of mobility services that cater to their specific needs. Called the "Total-car Service", this program with utilize onboard telematics data through a shared information platform and provide services such as fleet management, insurance, and vehicle maintenance offers, all with the goal of expanding the use of ride-hailing services and enhance the experience for end users.
Set to launch in Singapore initially, with Toyota offering the Total-care Service for around 1,500 Toyota vehicles owned by Grab Holdings, Inc (Grab) through its subsidiary, GrabRentals. This isn't the first time Toyota has partnered with Grab, as they have been strong supporters in the ride-hailing industry. The rest of the region will adopt the service slowly throughout 2019, and both Toyota and Grab aim to increase the share of Toyota vehicles in Grab's fleet in the region by 25% by the year 2020. Grab is also planning to implement the Toyota Production System, an initiative based on the philosophy of eliminating waste, to improve business operational efficiency.
Since vehicles used for ride-hailing services tend to accumulate much more mileage than privately-owned vehicles, it is essential to keep these cars in safe, good working condition through proper maintenance. Proper maintenance and servicing intervals insure that passengers and partner-drivers are safe and safety standards are kept at high levels.
We are excited to work with Toyota to roll out the Total-care Service to our Grab Rental fleet. The ability to meld data analytics with vehicle maintenance will make our rental fleet even safer for our driver-partners, and go toward achieving our goal to raise transport safety standards in the region.
The driving data collected by TransLog, Toyota's in-vehicle data-transmission device, is sent to the Mobility Services Platform (MSPF), an information infrastructure also developed by Toyota for vehicle connectivity. This data is then used by Grab, Toyota, and local dealers to collaborate and provide a safer and more secure ride-hailing platform for the entire region.
Latest News
Get ready to apply for or renew your license with this handy guide from the LTO PITX Licensing Center.

Chevrolet Philippines' distributor, TCCCI, along with M1G1 Auto Dealership Corporation opens its new Makati location.

Mitsubishi furnished its popular seven-seater MPV with a new look, a new cabin, and more features.
View More Articles