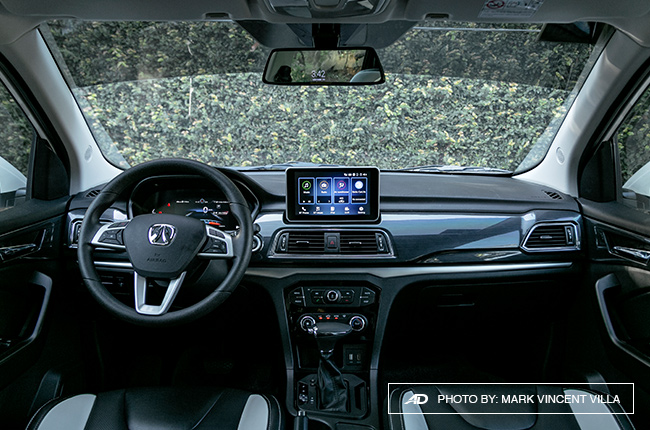 It may be called a multi-purpose vehicle, but the primary and most popular use of an MPV is to carry more people, either in or out of the city.
With the BAIC M60 Luxury, you have seven seats to choose from, with captain seats on the second row, and you'll be pampered with tech amenities. However, it's not a flawless affair with those toys, and in my review of the M60, I said that the interior is its saving grace. Let me explain in detail.
Budget Luxury
Step inside the M60 and the interior will surprise you. There's a digital cluster gauge, big LCD head unit, a dashboard accent resembling brushed aluminum - it's just classy all over, and we're just talking about the front of the cabin.
Second row gets two captain seats with arm rests between them. There's also a digital rear aircon control with a 12v socket and a USB port. Above, there's two awkwardly placed aircon vents for this middle row, but that's a cost cutting move since the same assembly has three vents for the third row. It's awkward but it's better than having all the vents behind the driver, making it hard for the third row passengers to cool off.
Speaking of third row, you get a foldable seat that is spacious enough for two large and one small adult, or three medium sized adults. Look at the picture above and between them there's enough space for another person.
Legroom is also great for the third row. Sure it's almost touching our lady's knees but she said she's not cramped at all. If desired, the second row seats can still move forward and there will still be enough room for the second row passenger.
Family Approved Cargo Space
My beef with seven seaters stems from being unable to hold the cargo of seven passengers. I've been in a seven-seater SUV before and our luggage went higher than the third row seats, blocking the rear view of the driver. Surprisingly, that didn't happen with the M60.
The cargo area is deep and has enough length that even if the third row seats are up, you can jam in a lot of bags. I had lots of medium sized travel bags in there, and several others, as you can see, all without blocking the driver's view. All it took was a simple game of tetris. If ever that's not enough, there's adequate space between the two captain seats in the second row for you to place more things.
As I said before, the M60 truly shines in practicality and comfort - two things that are important in family trips, especially longer drives. If you're like me who prioritize those above all else, the M60 Luxury from BAIC is worth a look.
Latest Review
With such an iconic model, we couldn't help but enjoy every moment we had with this: The MINI Cooper S 3-Door.

4.1

/

5

First impressions are good of the Mazda CX-90, and Mazda's newest and biggest crossover is also its most expensive.

What's in a base model? Ford has redefined the base trim in its lineup.
View More Articles