Let's make another case for this manufacturer, GAC. It's a new brand in the Philippines that seeks to make a name for itself. In order to prove the worth of its cars to consumers, the manufacturer has opted to go big or go home by offering vehicles with all the bells and whistles that you can get in a modern vehicle, but maybe not all the trimmings.
Here is a choice cut from the GAC Motor stable, The GAC GS8 2.0L 4x4 GL. A sizeable slab of metal and leather that should be taken seriously, even if people may think otherwise. Here's our full review of the car that's better than you think once you're behind the wheel and seven passengers in.
Performance
Engine Output (HP), Acceleration, Transmission, Handling 3.0/5
Design
Exterior & Interior Design, Quality, Fit and Finish, Ergonomics 4.0/5
Ride Comfort
Cabin Comfort, Suspension, NVH Insulation 5.0/5
Safety and Technology
Convenience Technologies, Active and Passive Safety Features 4.0/5
Value for Money
Amount of the vehicle you get for the price, Fuel Efficiency 4.0/5
What You Will Like
LED headlights are top notch
360-degree camera with blind-spot monitoring
Generous space
What You Won't Like
Cameras fall short at night
No Android Auto
Piano black plastics
No speed sensing door locks
How We Do Our Reviews
Exterior
I can't deny that GAC's styling is unique. The brand has done well to make its cars distinct from other manufacturers in the market. While you can cherry-pick a few design elements here and there, the vehicle as a whole has its own distinct identity which I would recognize whenever I'd see models pass by me on the road.
The outside is subdued and bold at the same time. The safe design cues paired with a big exterior make this vehicle a peculiar item to look at. It's interesting to see something this different, from a brand looking to make a statement. Without a doubt, it does, but whether it says something good is up to you. For me, it's not too out there nor is it too bland, which I like. It has creases and touches where it matters and to top it off, those touches are functional, especially when looking at it head on.
Headlights are perhaps the prime example of form and function. Whenever I see a car with a unique, high-power, and striking array of lights, my heart flutters. The full LED technology from GAC uses multiple diode projectors to light up the road ahead. This setup becomes instrumental during fog and inclement weather because even with low visibility being a factor, I felt like I was getting enough illumination even on provincial roads. The headlights are also adaptive, somewhat, as an extra light oriented towards the corners of the vehicle activates when you turn the wheel or indicate in either direction. On top of that, you also get a rear taillight that has a three-dimensional effect. Similar to the execution of higher-end brands, these tails are LED bars and contain a mirror in the housing to give it an infinity effect of sorts.
The high-roller runs a set of 19-inch wheels wrapped in some beefy tires. The size of the wheels translates to a smooth and unobtrusive ride. Another touch that the GS8 has are Trumpchi badges and logos scattered throughout the bodywork and infotainment system of the car. Now, before you pick apart the words inside this name, do note that the brand was previously known by this designation, but prefers to go by GAC now.
The fit and finish of the exterior are as good as other brands in the market. GAC prides itself on the manufacturing process and product development cycle. The company employs high-level standards when manufacturing its cars, and it shows in this unit's bodywork. The paint is also of note. We received a unit in Elegant Black, and the mirror finish could be seen even if the unit wasn't brand-spanking-new anymore.
Interior
While the outside has elements that can impress, the same can be said for the interior, but in sparser amounts of praise. You do get a leather-clad cabin with tones of brown throughout the cabin, but a downside to this is the dirt and grime that can get caught in the fabric headliner and the carpeting of this unit. I'd get rubber mats as soon as I get the unit if I ever owned one for myself.
The quality is acceptable, borderline great, but it's not spectacular as there are some creaks that surfaced when I deliberately moved the panels back and forth with much intent. Other than that, the seats do a good job of supporting my torso; not so much with regard to my legs. I stand at five feet, eight inches tall, and I found that the seat bottoms need a tilting adjustment in order to support the backs of my knees. They are still motorized, however, which is a win in my book.
You get ample legroom all throughout the cabin, save for the third row, which has more than enough space for smaller individuals. It comes equipped with the magic number of seats, seven, which is par for the course for a vehicle of this size. One qualm I have is the shorter-than-usual rails that the front passenger seats come with. This means the person upfront doesn't get to stretch his legs out too far. Given that the GS8 is a big car, it doesn't get me too worried.
Cargo space is as expected for a vehicle of this class. You can fold the rear seats flat, which will give you enough space for most items you may need to haul. For the times when you need to maximize space, you can fold the second row down, for access to even more room. Once you get this car, get a rear cargo cover or have one made. Unless you like to look of light-colored interiors with a layer of grime.
Technology
Here is where this full-sized crossover gets its legs. The headlining feature that I was able to use many times throughout my review period was the 360-degree camera. I do think that the resolution of the sensors could be better, the same with the low-light capability of the modules. I cannot deny, however, that this is a useful piece of tech that can ease anxieties when it comes to commandeering a sizeable car like the GS8. You also get blind-spot monitoring which outputs video to the display of the infotainment screen.
Like I said, these cameras output to the 10.1-inch infotainment screen. The only gripe I have with this unit is the lack of Android Auto. While it does have Apple CarPlay, I can't help but feel short-changed by GAC, given that an entire OS was omitted from the system. I'm only butthurt because unlike Jacob, I use an Android phone. The Qi wireless charging pad in the car was also another sore spot for device-related features. The GS8's wireless charging pad didn't have that grippy layer on top of it, which made my device shuffle about.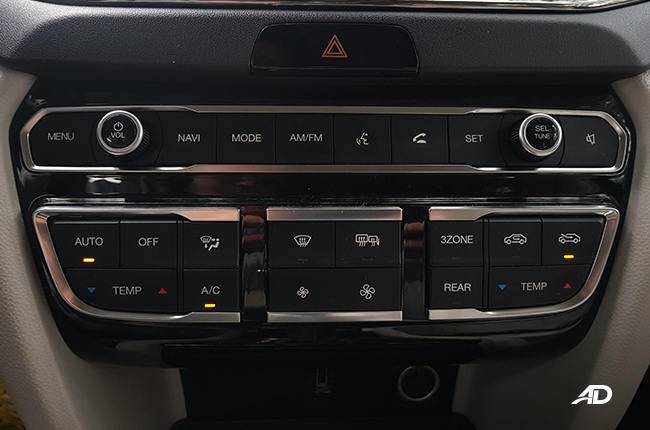 To allow for more comfort, you have heated and cooled seats as well as three-zone automatic climate control. The driver, front, and middle row passengers get their own localized climate zones so nobody will have to fight for air superiority when inside the vehicle. You also get overhead vents in the ceiling, which extend all the way to the third row. Aircon controls are also present for the second row, allowing passengers full control of the air coming their way.
Safety
The GAC GS8 is a safe vehicle. It can survive a tree falling on top of it for starters, as detailed in an article we wrote a while back.
Apart from a tree, you are kept safe from other "less natural" forces. This GAC comes with a total of six airbags. The driver and passenger get a pair, as well as the passengers with the side and curtain bags all around.
Safety features while driving include ABS with EBD and brake assist. You also get an electronic stability program paired with traction control as well. Also to keep you safe is the inclusion of a lane-departure warning system.
Driving
The GS8 has a 2.0L turbocharged gasoline engine that produces 198 hp and 320 Nm of torque. Compared to diesel engines around the same displacement, its specs are par for the course in terms of horsepower, but lacking in torque. This can be felt when accelerating at wide-open throttle. The little four-banger struggles to move the heavy body of the GS8, especially when getting up to higher speeds. Turbo lag is minimal but other than that the engine lacked the power to propel this vehicle as fast as I wanted. Though it gets the job done just cruising. The transmission did its job, though I wish it had more gears to play with, it did shift smoothly though.
One gripe that I have with the powertrain is with regard to the paddle shifters in order to use them, you have to press a button and activate manual mode. Shifting into the S position in the gear selector doesn't activate the feature. You have to cycle through 4 different modes, namely normal, eco, winter, and finally manual. All the modes (except for eco-mode) activate the i4WD system of GAC which was quite useful going up slippery inclines during the rainy season.
Piloting this beefy boy was a cinch thanks to the aforementioned tech features. Blind-spot monitoring via the camera system was intuitive and unobtrusive. The size was of no worry either thanks to the 360-degree camera system.
On top of that, the chassis was another high point that the GAC got from me. You have a monocoque paired with independent suspension all throughout. Couple that with low NVH levels and you have yourself a smooth ride. Riding this as a passenger was a joy. Road noise was kept to a minimum and imperfections on the road were smoothed out and imperceptible if small and unobtrusive if large.
Fuel Economy
This segment is filled with some disbelief. Initially, I had prepared my wallet for an exorbitant fuel bill. I was pleasantly shocked at the fuel economy that the GS8 returned. On sedate drives with some traffic here and there, the GS8 was able to average 10-11 kilometers per liter in the city. Not bad for its size. Not bad at all.
On the highway, it was a different story. While the small engine was able to give a nice low-end punch when needed, highway drives were a little taxing for the 2.0L. This paired with the six-speed automatic transmission gave me an average of 13 to the liter. It could have been better if I was more laid back though so your mileage may vary.
If you find yourself in traffic, prepare to pay the price. In heavy standstills, the GS8 averages about 6 to 7 km/L, which is par for the course with its size.
Verdict
There is something that has to be said about driving this thing around town. While bringing it to the supermarket, I was stopped by a gentleman who asked me about the car. While that sounds good, he really only asked me if it ran on gasoline or diesel. Unfortunately, he didn't like my answer. It appears people really prefer diesel mills in the Philippines especially when it comes to big and heavy SUVs.
With that being said, a case can be made for the GAC. I did appreciate the fact that the gasoline engine kept the cabin very quiet. If only it had more displacement and more power, but I digress, it's not a horrible pairing.
If you're using it around town or just for city driving, then it's perfect. It's a space away from the chaos of the city. It's a quiet and smooth ride thanks to the engine, the chassis, and the adequate room, just not in the third row.
So do I recommend this? To the right person, it'll be a good buy, and at P2,388,000, what you get over similarly priced rivals is more space, a quieter and more pliant ride, and a 360-camera that helps you keep your unique exterior scuff-free. You'll turn some heads along the way too, for better or for worse.
2019 GAC GS8 Exterior Photo Gallery
2019 GAC GS8 Interior Photo Gallery
---
Specifications
Performance
198 hp @ 5,200 rpm
---
Summary

| | |
| --- | --- |
| Name | GAC GS8 2.0 4x4 GL |
| Body Type | Crossover |
| Price | ₱ 2,388,000 |
| Transmission Type | Automatic |

Engine

| | |
| --- | --- |
| Engine Size | 2.0 L |
| Displacement | 1,991 cc |
| Number of Cylinders | 4 |
| Number of Valves | 16 |
| Transmission Category | 6-Speed Automatic Transmission |

Performance

| | |
| --- | --- |
| Drivetrain | All-Wheel Drive |
| Max Output (HP) | 198 hp @ 5,200 rpm |
| Max Torque (nm) | 320 Nm @ 1,750 rpm |
| Acceleration Rate | n/a |
| Top Speed | n/a |

Economy & Environment

| | |
| --- | --- |
| Fuel Type | Gasoline |
| CO2 Emission | n/a |
| Fuel Capacity | 66 L |
| Fuel Consumption | n/a |
| Range | n/a |

Dimensions

| | |
| --- | --- |
| Length | 4,810 mm |
| Width | 1,910 mm |
| Height | 1,770 mm |
| Wheelbase | 2,800 mm |
| Turning Circle | n/a |
| Ground Clearance | n/a |
| Wading Depth | n/a |
| Trunk Capacity | n/a |
| Max Cargo | n/a |
| Number of Doors | 5 |
| Number of Seats | 7 |

Safety & Security

Driver's Airbag
Front Passenger's Airbag
Side Airbag
Curtain Airbag
Knee Airbag
Electronic Brake Distribution
ABS

with Brake Assist

Immobilizer
Security Alarm
Stability Control
Electronic Door Locks
Speed Sensing Door Locks
ISOFIX
Lane Departure Warning System
Blind-Spot Detection System

Features

| | |
| --- | --- |
| Cruise Control | |
| Front Parking Sensors | |
| Rear Parking Sensors | |
| Leather Upholstery | |
| Push Start Button | |
| Wheel Size | 19 in |
| Wheels Metal Type | Alloy |
| Airconditioning System | Three-zone Automatic Air Conditioning System |
| Entertainment System | 10.1-inch Touchscreen Audio & Video System |
| Connectivity | Bluetooth and USB with wireless phone charging |
| Navigation Ready | |
| Warranty | 5 Years |
| Keyless Entry | |
| Roof Rack | |
| Sunroof | |
| Electric Adjustable Seats | |
| Power Steering | |
| Power Windows | |
| Power Outlet | |
| Steering Wheel Audio Control | |

Technology

| | |
| --- | --- |
| Active Park Assist | |
| Hill Start Assist | |
| AWD Modes | All-Wheel Drive |
| Tire Pressure Monitoring | |
| Heads-up Display | |
| Power Liftgate | |
| Start-stop System | |
Just One More Step To Get Your Quote
Find out more info, request a brochure, or request a quote by sending an inquiry below
Latest Review
The Avanza gets a bit of an update for this year. Is it more attractive this time around?

3.4

/

5

A few updates to the most comfortable midsize pickup truck goes a long way.

4.2

/

5

The Santana AT could be your very first Volkswagen. But how does it perform as a daily driver?

3.9

/

5