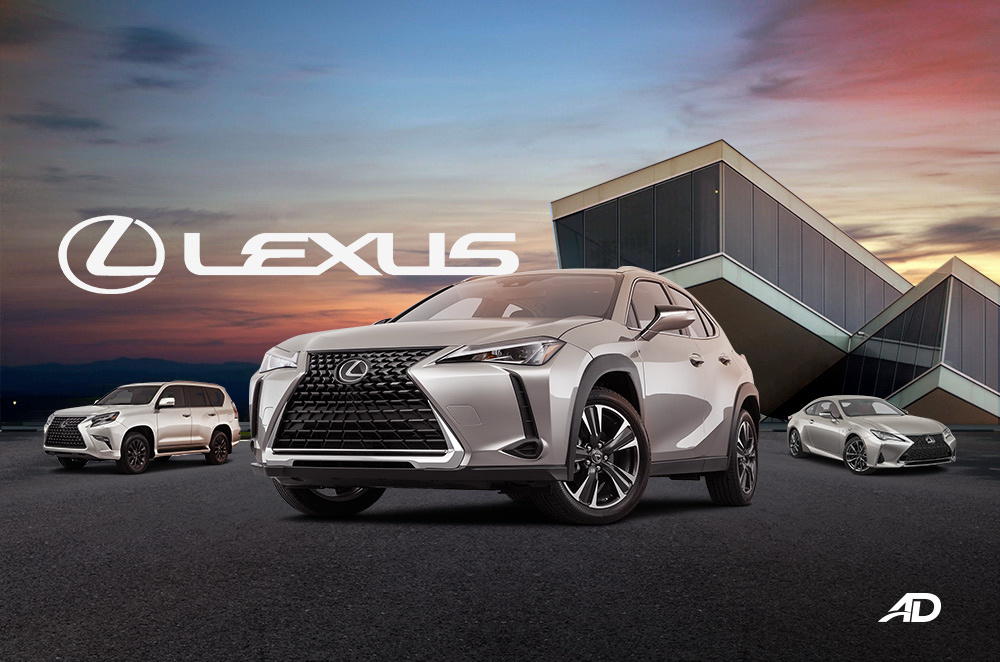 Lexus as many already know is a luxury car brand in the Philippines. The Japanese automaker has a wide selection of models to choose from that cater to specific segments in the Philippines. With so many options available it becomes difficult to choose the right one for you and your needs. That being said we made a quick list to help you decide which one best suits you based on their vehicle body types.
Sedans
Up first are the Japanese automaker's selection of sedans in the country. These range from the sporty to the more luxurious options. They also come with a wide selection of engines to choose from, from hybrid power plants to powerful turbocharged motors. That being said, on to the list.
Lexus IS
For starters, we have the Lexus IS, which is one of the brand's more affordable options in the Philippines. You have a range of hybrid variants to choose from which gives you great levels of comfort and luxury along with great fuel economy as well. Those looking for a sportier variant will be happy to know that there is a 350 F-Sport model which packs a 3.5-liter V6 motor that pushes out more than 300 hp and 380 Nm of torque. It also happens that the IS is the rear-wheel-drive for those who want to have a little more fun with their daily driver.
Lexus ES
The Lexus ES is for those who want a bigger vehicle with a more refined ride and don't necessarily need sports car-like handling. Just like its smaller brother, this luxury sedan also comes with a hybrid variant along with a sportier V6 model. It offers the latest technology that the Japanese automaker has to offer albeit in a front-wheel-drive package
Lexus LS
The Lexus LS is the granddaddy of the sedan lineup of Lexus in the Philippines as it is the most luxurious sedan that the automaker has on sale in the country. It also happens to be the most expensive out of the sedan models in the country as well. Given that this is their flagship model, for sedans in the Philippines, you naturally expect a lot of up-to-date technology and luxurious materials to be found in the vehicle. Your guess is right as the LS delivers all this and much more. It even comes with a special four-seater configuration for those who value their comfort at the back. Hybrid options are also available for this model.
Crossovers
While Lexus considers these vehicles SUVs we will consider them as crossovers just to better distinguish them from their more off-road capable brothers the LX and GX. That being said, the Japanese automaker does offer you a good selection of three models to choose from, with each having its own specific targeted niches.
Lexus UX
Out of the selection of crossovers the Japanese automaker has in the Philippines, the Lexus UX is the most affordable in the lineup. One could consider this the entry-level model at least for the crossover segment. That being said, it offers you much of the same luxuries found within the sedan lineup but with sportier SUV-like styling. Power this crossover is a 2.0-liter gasoline engine that produces a healthy 168 hp and 205 Nm of torque. This power is sent to the front wheels via a CVT.
Lexus NX
Up Next we have the Lexus NX which is a step above its UX brother. By its name expect to experience driving a Nimble Crossover. Just like the rest of the Lexus lineup, expect to see top-quality materials and craftsmanship inside the vehicle. Powering the vehicle is are a range of 2.0-liter gasoline engines and a 2.5-liter hybrid motor. Aside from this, the NX can also be had in either AWD or as an FWD depending on the variant chosen. This is ideal for upper-class Filipinos looking for a versatile and premium crossover.
Lexus RX
The Lexus RX is another crossover within the brand's lineup that offers you car-like refinement and luxury. Enjoy the refinement and creature comforts with ergonomic leather seats for five adults and a luggage compartment that could be folded flat to give it more versatility. You can choose between gasoline or hybrid, with Drive Mode select functions – ECO to favor optimal efficiency, SPORT for the pulse pumping ride, and NORMAL for the balance of both. Powered by a 292-hp V6 with an eight-speed sequential-shift transmission, the RX assures you that you have the power you need. Also, matched with Lexus Hybrid, it yields the best fuel economy possible.
Coupe
If getting a performance car is a little more up your alley, Lexus has also got you covered as it offers you premium coupes that will help satisfy that need. In this segment, you will find the latest and greatest offering that the brand has when it comes to its two to four-seater performance-oriented vehicles.
Lexus RC
The Lexus RC-F boasts of a high-performance package, which combines the legendary Lexus LFA's top-level wild and wicked nature, with the accessibility found in most of the brand's current line-up of sports coupes and sedans. It is powered by a 5.0L 450+ horsepower 32-valve V8-Engine, connected to an 8-Speed Sports-Direct Shift transmission, driving the rear wheels, and enabling endless amounts of drifting exhilaration and spirited driving. Combined with its 3-mode Torque Vectoring System, it can behave in comfort and in raw track-day action in no time.
Lexus LC
The Lexus LC is the brand's flagship model when it comes to the local market's coupe segment. It offers you much of the same high-tech and high-quality materials are seen in the brand's sedan offerings and comes with other features for an even sportier drive. Power-wise, a 5.0 naturally-aspirated V8 engine is found under the hood, which feeds the car with 467 hp and 527 Nm of torque. This thunderous engine is coupled to a 10-speed automatic transmission, giving the car the ability to go from 0 to 100 km/h in 4.5 seconds.
SUV
For this segment, Lexus offers you a selection of great off-road capable vehicles that also come with premium features and materials. These rugged vehicles will make you feel at home, whether you are on the paved road or off it.
Lexus GX
The Lexus GX is the brand's mid-size luxury SUV. It mixes a traditional SUV prowess of being able to tackle almost any terrain with a few creature comforts and luxury options that you would expect from a world-class brand. At its heart, the GX is powered by a 4.6L V8 Dual VVT-i engine that gives out 301 horsepower and 438 nm of torque that should be useful in towing. Off-road capable 6-speed automatic transmission is also assisted by a limited-slip differential, 8.1" ground clearance, and KDSS suspension assures you that it can tackle any terrain possible.
Lexus LX
The Lexus LX is the brand's luxury SUV in the country. It is a blend of a good traditional SUV which is designed to take on the toughest jobs mixed in with high-quality materials and features that keep it positioned in the premium segment. Under the hood, it is powered by a 5.7L V8 DOHC Dual VVT-iE 362 horsepower is more than enough grunt to take you anywhere with something to tow in the rear. The 6-speed speed automatic is connected to a Multi-terrain select four-wheel-drive which you control over unpredictable weather.
MPV
If you want a family-oriented vehicle with a touch of luxury, Lexus Philippines has also got you covered with the Lexus LM. Either for work or family, this Van will shuttle you around in style and comfort befitting of a luxury Japanese brand.
Lexus LM
Based on the Toyota Alphard, which in itself is already a luxurious vehicle, the Lexus LM takes it up a notch further by adding more features and amenities to the MPV. While still retaining its 7-seater capacity, Lexus has given the vehicle a more premium position thanks to the use of high-quality materials and other technologically advanced features. It is still powered by a 3.5-liter V6 motor, which gives the vehicle a great balance between power and fuel efficiency.
Latest Features
Priced right, engineered to be driven, and polished premium, the Mazda3 makes for a great daily driver for enthusiasts.

Cars come with the latest and greatest tech now with adaptive, automatic, and advanced systems, but is it worth it?

We created a quick list of cars you can buy today that will give you the most amount of horsepower for the lowest price.
View More Articles