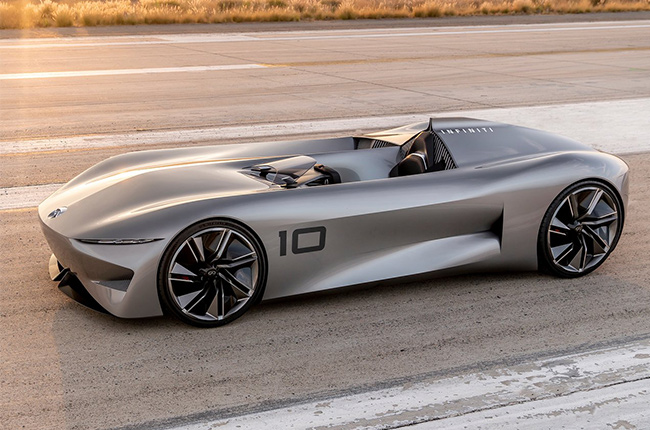 Remember the Infiniti Prototype 10 electric concept that was showcased last month? No, we don't, too, as Nissan's luxury brand is yet to enter our shores so we're not paying that much attention to its concept cars.
But, we should have had paid attention to that car, as a report from Nikkei Asian Review states that Nissan is planning to develop an electric luxury sedan off of an Infiniti model. With this concept out and about, the Prototype 10 could be the basis of Nissan's upcoming electrified luxury vehicle. A Nissan badge on its hood may or may not signify its arrival on our shores, although it's too early to tell.
Seeing this move in a different perspective, it seems like Nissan is pushing its EV prowess further, presumably to become the number one nameplate in an upcoming technology. Yes, upcoming, because right now, EVs are still a niche market that's dependent on the country's infrastructure in order to promulgate.
One perfect example is the Philippines. With the limited electric charging stations here, which you could count in maybe one or two hands, the shift to electric vehicles is still a far-fetched idea, but we're getting there slowly. And Nissan Philippines Inc. (NPI), along with Mitsubishi Motors Philippines Corporation (MMPC), wants to be the forefront of that push.
This was substantiated during the 2018 Philippine Electric Vehicle Summit, wherein Nissan showcased the Leaf to the attendees. The world's best-selling EV, which sold over 350,000 units since 2010, was a sight to behold, makes us wish we were with Caco when he test drove the Leaf last year in Tokyo, but we digress.
The reports of a Nissan electric luxury sedan is significant to the global push on EVs, and it's an interesting story to follow. Well, not to mention how bonkers the Prototype 10 looks. Nissan's strategy is obvious: the Leaf will be its affordable EV, while the upcoming upscale sedan will take care of those deep-pocketed patrons of the segment. It's a solid plan, but we'll have to wait a few more years to see what the marque is really up to.
Source: Nikkei Asian Review
Latest News
Overland Kings, an outlet of Black Rhino Wheels, opens it doors ready to provide quality offroad and adventure gear to the public.

Ford Philippines shares the features on its Ranger Wildtrak, stating its modernity and versatility as key factors to its appeal.

Volkwagen makes its then satellite showroom into a full blown dealership, the brand's eighth since 2013.