Family vehicles – an unofficial segment that's close to the hearts of Filipinos. Why? Because our culture dictates so, and we, as a nation, value our family more than anyone else. That's not a bad thing, mind you, because I, for one, can honestly say that the next car I'd buy would be for the small kin I'm in right now.
Of course, this doesn't apply to everyone, but I'm speaking on behalf of the majority in the Philippines, and when I say majority, it means the bulk-load of inquiries we get via the AutoDeal car-buying platform and several messages that go through our inbox.
To be fair, the cars here are those that I've actually driven, whether on an in-depth review, through media drives, or past experiences. I also considered a lot of important factors when looking for a family vehicle, which include interior space, drivability, value for money, fuel-efficiency, features, and some after-sales service offerings.
All cars—no matter what size and shape—can be called a family vehicle. But which ones are the best? It's time to answer this age-old question.
Honda Mobilio (P874,000 – P1,058,000)
Frankly, I'm not fond of multi-purpose vehicles (MPVs), as they often come short when it comes to engine performance. However, the Mobilio isn't. With its 1.5L i-VTEC gasoline engine and Earth Dreams CVT shared with a lot of Honda vehicles, this mini-MPV drives even better than some sedans while having more than enough space for seven occupants. It also comes with features tailor-fitted for long family trips, like several cupholders (hello, drive-thrus), rear A/C vents, and a decent-sounding entertainment system. With its less-than-a-million-peso price tag, it's the better choice when looking for a car that's both good-looking, functional, and within a reasonable budget.
You might ask, why not the beefier BR-V? Well, the BR-V shares several traits with the Mobilio except for one: the latter has a better sedan-like ride comfort, thanks largely to its lower ground clearance and softer suspension.
SsangYong Tivoli XLV (P1,095,000 – P1,245,000)
Diesel-powered, spacious, and packed with toys that matches its asking price. Yes, the SsangYong Tivoli XLV is a five-seater, but it has boat-loads of cabin and trunk space, which is beneficial for a small, starting family. The huge cargo space can fit a stroller, a month-worth of groceries, overnight bags, and kids' toys – all at the same time, while being driven by a powerful yet thrifty diesel engine that read 22.6 km/L on the highway.
The Tivoli XLV is also the most comfortable crossover out there, with an almost non-existent body roll on the twisties of Kennon Road. It's a bold claim, but I'm willing to stand by it. As with all SsangYongs, the Tivoli XLV comes with three years of free preventive maintenance service. Nice.
Isuzu mu-X RZ4E Blue Power (P1,395,000 – P1,605,000)
I'm pretty sure you've had this one coming since seven-seater midsize SUVs are definitely on top of the list of family vehicles. What separates the new Isuzu mu-X RZ4E from the rest is its fuel-efficiency figures during our tests (17.9 km/L on the highway; 8.2 km/L when traversing EDSA during rush hours) that goes hand-in-hand with enough power to move its laden weight. No, it isn't under-powered as its 1.9L diesel engine would suggest, and definitely not short of features for a road-loving family. The foldable DVD display LCD by the second row is also nifty, as it's perfect to entertain the kids during long drives.
Now, the mu-X RZ4E's best feature? Its price tag.
Nissan Terra (P1,499,000 – P2,096,000)
The Terra is the newest (and probably the hottest) car out there, and Nissan's latest entry to the midsize SUV segment. You might say that it's too early to include this model on this list; I would agree with you initially if not for the things we observed during the media drive.
First, the Terra is spacious, even in the third row, thanks to its best-in-class wheelbase at 2,850mm (same as the Everest). It also has a lot of air-conditioning vents for every passenger. The ride comfort is outstanding as well – paired with its powerful engine and a lot of tech features, it makes driving the Terra a pleasure rather than a task.
All those traits are wrapped up in a competitive price point, right next to the mu-X. Pretty good deal, if you ask me.
Mazda CX-5 (P1,680,000 – P2,252,400)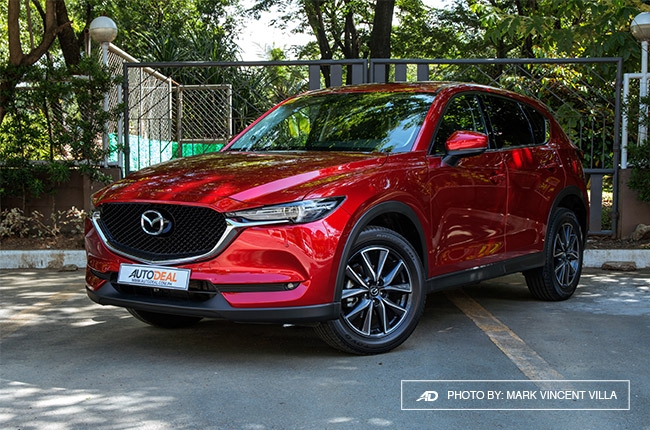 Another crossover that needs recognition is Mazda's compact offering: the CX-5. It made waves during its launch last year and made even bigger ripples when we got our hands on it. Arguably, it's one of the pricier options for a compact crossover, but all that stigma about the price are well-matched by its great driving dynamics, plush cabin, spacious interior, nice entertainment system, and cozy climate control system. The overall feeling inside CX-5 is way better than its rivals, which is something that you and your family would enjoy.
Best part? The Mazda CX-5 comes with YOJIN3, which, just like the SsangYong Tivoli XLV, entitles you to free PMS for three years. Now, that's hard to beat.
While the previous entries on this list aren't variant-specific, I would want to be clear-cut on this one: the Ford Everest, in its Titanium+ variant, is the best midsize SUV out there. It has the biggest space, the most comfortable ride, and packed with several high-tech features for a safe and pleasurable travel with your family. It even comes with a 220V power outlet in the second row. It's pricey, but I'm pretty much sure that every peso that you spent is sulit, so to speak.
I'm not saying that the other Everest variants in the lineup aren't good. They are, but if you want the best (and you have the means), why not go for the best of the bests?
Now, why choose 2.2 and not the 5-cylinder 3.2 version of the Titanium+? Well, the bigger one is hands-down powerful and has off-road capabilities, but if you will be using the vehicle as a family-hauler, you're better off with the thriftier 2.2 with a P230,000-less price tag.
Final Words
Needless to say, these observations and opinions are not without bias and prejudice, depending on how I've been looking at cars ever since I had a chance to grab a steering wheel. I just aim to aid you in your car shopping, hoping you would have an informed and educated decision from the people who have been with cars for quite some time.
The final say will always be yours, so I highly suggest that you test drive all the cars on your shopping list. Vehicles are huge investment, and should not be taken lightly. Lastly, make sure that you have a parking spot, okay?
Latest Features
Priced right, engineered to be driven, and polished premium, the Mazda3 makes for a great daily driver for enthusiasts.

Cars come with the latest and greatest tech now with adaptive, automatic, and advanced systems, but is it worth it?

We created a quick list of cars you can buy today that will give you the most amount of horsepower for the lowest price.
View More Articles