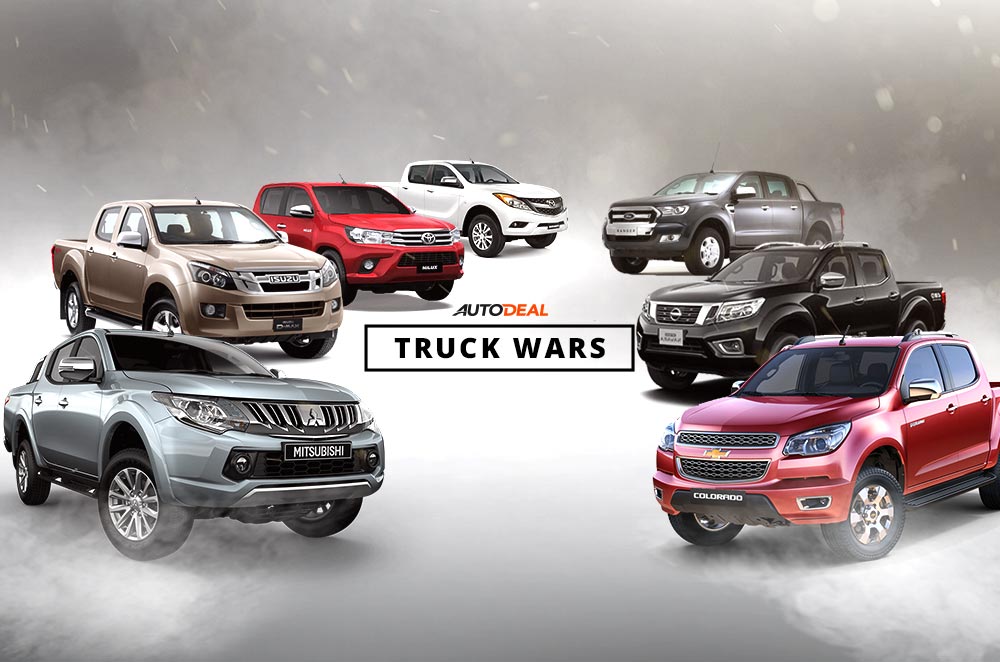 The year 2015 has been revolutionary when it comes to the pickup truck segment. We have witnessed the launch of new models from famous brands. This has definitely started a war.
We pulled up the stats and did the ranking for you. The stats are from the average number of views on the AutoDeal Car Guide for each pickup truck for the month of August 2015 - which translates to the popularity of each model.
Let's see which among these trucks is the most popular and why.
#1 Toyota Hilux (P776,000 – P1,685,000)
By gaining the highest number of sales year-in and year-out, Toyota has cemented its reputation as the #1 car manufacturer in the country. This has definitely given them the edge.
Available in 7 variants, the all-new 2015 Hilux features a powerful and stylish design, with protruding wheel arches that display a more stable stance. It is available in 2.4 L and 2.8 L turbo intercooler diesel engine, and then mated to either a 6-speed manual or 6-speed automatic transmission. The G variant comes standard with 6.5-inch touchscreen head unit with navigation.
#2 Nissan NP300 Navara (P916,000 – P1,520,000)
Following closely is the all-new NP300 Navara. The newest offering from Nissan created a stir with its constantly changing name and new technology. Well, wouldn't you be curious when something new is about to come out?
The NP300 Navara is an evolution of its predecessor. It sports a high-strength frame with coil-over suspension up front and coil spring set-up at the back for improved ride comfort. In addition to that, the four-wheel-drive capability of the NP300 is available at a touch of a button. Showered with chrome accents, its V-type front grille, mirror caps, and fog lights will always keep you in style. Under the hood, the 2.5-liter DOHC Variable Geometry System (VGS) diesel engine delivers enough power for both 4x4 (3 variants) and 4x2 (4 variants).
#3 Ford Ranger (P1,219,000 – P1,679,000)
Just like the other two above, Ford also launched this new truck this year. As the first American brand on the list, Ford has proved that they also have the appeal to the Asian market especially to the pickup truck segment.
The exterior and interior of the new Ranger has been heavily upgraded such that if you were a fan of the previous model, you would immediately notice the changes in the new one. This is definitely worth checking out. There's not much of an upgrade under the hood though. Nevertheless, people's curiosity was tapped making them the 3rd most popular pickup truck this August. Available in 4x4 (4 variants) and 4x2 (4 variants).
#4 Isuzu D-Max (P697,000 – P1,487,000)
Isuzu Philippines wasn't able to launch a new pickup truck this year, but that doesn't mean that their current entry is the lesser choice. Isuzu D-Max is a tough pickup truck that has a loading bay that could carry large and heavy travel-essential items.
You have an option to choose between 4x2 (5 variants) and 4x4 (3 variants). Powered by a 2.5 L Turbo-Intercooler Euro-2 diesel engine, you will never run short of power with this truck. Long drives won't be boring as it comes standard with a 6.2" LCD multimedia entertainment system with DVD/WMA/MP3 compatibility and Bluetooth/iPod connectivity.
#5 Mitsubishi Strada (P950,000 – P1,440,000)
Released early this year, the all-new Strada is a lot more muscular and aerodynamic than its predecessor while keeping its signature "J-Line" design.
The Strada is powered by 2.5L direct injection diesel engine. Noise, vibration, and harshness (NVH) levels have also been improved for a more quiet and smoother ride. It is available in 4x2 and 4x4 with 3 variants each.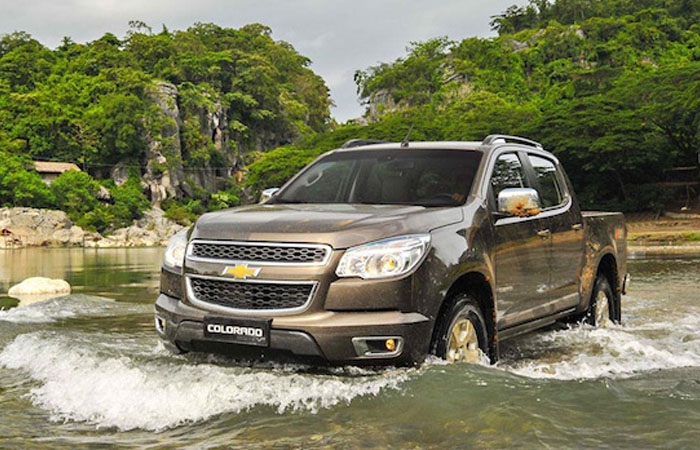 #6 Chevrolet Colorado (P1,148,888 – P1,598,888)
The 2nd American brand on the list, the Chevrolet Colorado, will not disappoint you with its hefty cargo area that should come standard with pickup trucks.
It is powered by either a 2.5L or a 2.8L 16-valve diesel engine, depending on the variant. Which is then mated to either a 6-speed automatic or a 6-speed automatic with Active Select (manual mode) transmission. With these specifications, this pickup truck will always be a contender to its Asian counterparts. Available in 4x2 and 4x4 (6 variants).
#7 Mazda BT-50 (P1,300,000 – P1,490,000)
As the oldest model on the list, the Mazda BT-50 ends up in 7th spot. But it didn't the win 2012 - 2013 Truck of the Year Philippines (TOTY-Ph) awards for nothing, right? This means that it's still a very potent machine and is definitely worth a look.
You have a choice of two engines with the BT-50 – a 3.2 L inline 5 or a 2.2 L inline 4 diesel engine – mated to either a 6-speed manual or a 6-speed automatic transmission. You can also choose between 4x2 and 4x4 variants. With its powerful engine and aggressive looks, you will never regret taking this big toy next time you go for an excursion.
#8 Foton Thunder (P898,000 – P1,468,000)
Pickup trucks should definitely have these main characteristics: power and immense rear bed. Foton Philippines clearly did their homework when they launched their entry to the pickup segment - the Foton Thunder.
With its 2.8 L turbo diesel engine, this truck should definitely on this list. It can produce up to 161 hp and 360 Nm of torque, mated to 5-speed manual transmission. You can choose from the three 4x2 or the two 4x4 variants. Unlike other Chinese made pickups, the Thunder is equipped with SRS airbags, 16-inch alloy wheels, and a relatively comfortable interior. Its rear bed is also set to handle large payload capacity, which will not disappoint you if you will use this for either business or camping trips.
Just One More Step To Get Your Quote
Find out more info, request a brochure, or request a quote by sending an inquiry below
Latest Features
The Nissan Navara is a pickup with a storied history, but there is more than meets the spec sheet.

If you're looking for car promos that would fit your budget's limit, we have a list of deals with affordable monthly payments.

Manufacturers issue recalls once they find a fault in their products that may hamper the functionality, safety, and longevity of a vehicle.