Most of us, in our childhood days, had a chance to become engineers of our very own ideas and imagination. Thanks to the toy company Lego, we were able to build spaceships, castles, bunkers – anything that our minds could imagine when we were kids. Even now, those would-be children still purchase the latest Lego sets, especially including cars.
If you happen to be one of those kids at heart, Lego has a new treat for you. The toy company has released its 2018 Speed Champions set with loads of cars you can collect. The news came from the Lego fan-blog site the brothers brick, with information they got from a UK retailer's website.
We've seen quite a number of Lego cars last year, including a life-size Batmobile, a GT-R Nismo (the real version just made it to local shores), Mercedes-AMG F1, and an actual Renault Lego F1. We even witnessed a lego Porsche 911 crashed on YouTube - that poor thing.
Now, you can build your own Lego-version of the 1968 Ford Mustang Fastback. The '60s sports coupe comes in green body paintjob with blacked out hood and racing decals. There are also gold racing stripes to match the gold rims, which in our opinion, are pretty neat. The fact that it's a Mustang and a Lego at the same time is enough to hook you and your wallet. It's priced at P944.89 (12.99 British pound).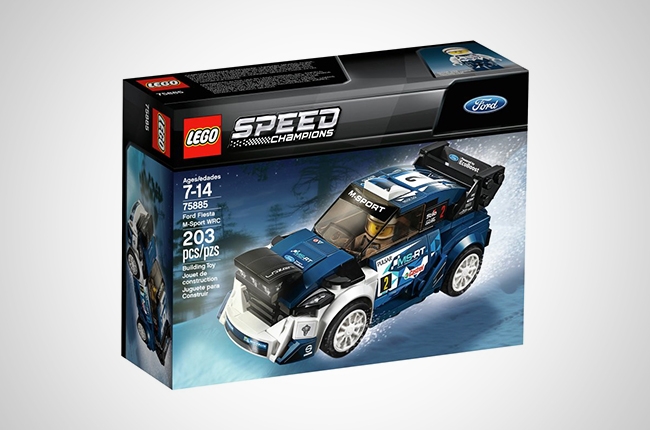 Even cooler is you can also have the World Rally Championship (WRC) edition of the Ford Fiesta M-Sport in your mini Lego garage. It comes with 2 interchangeable hoods; one with a fog light pod mounted and a regular fiesta hood. It also includes detailed cockpit and a driver minifigure. Priced the same as the Mustang, you would either be torn between the two, or spend for both at P1889.78.
You want a Porsche? Here's two in one box for you. Lego thought they might as well give you two Porsches instead of one so you could race them yourself. Inside the box are 2 different generations of the 911 nameplate: the 911 Turbo 3.0 of the '70s and the modern 911 RSR. You also get a pit wall, race-position bard, lap counter, a checkered flag, and 3 minifigures for a price of P2,545.18 (34.99 British pound).
If two 911s are not enough for you, take a look at the more powerful Porsche 919 Hybrid Le Mans prototype car. It comes with authentic design details and Lego-fied cockpit for the minifigure it comes with. There is also a start/finish post and laptop for tuning – because who knows, anything can happen in Le Mans. The 919 Hybrid is priced the same as the two Ford models.
How about a prancing horse emblem for your collection? This Lego-fied Ferrari 488 GT3 "Corsa" is the gem to add for your toy rack. It comes in Ferrari red with blackened roof, rear spoiler, and racing decals. There's also a minifigure Ferrari driver and a trophy at a price of P944.89 (12.99 British pound). That wheel detailing looks awesome, too.
Nowhere to place your Lego Ferraris? You can have the Speed Champions Ferrari Ultimate Garage at a price of P6,545.88 (89.99 British pound) to park your newly-bought 488 GT3, just in case. The garage don't come alone, though, as it has 7 minifigures inside the box. The package includes 3 racing drivers of the GTO 250, 488 GTE, and the historic 312 T4; a race marshal, race mechanic, and 2 lucky Lego citizens as visitors.
So, you drooling now?
Source: the brothers brick
Latest News
With a turbo motor, a character-filled interior, and a smart look, the Tharu lands in the Philippines breaking new ground for VW Philippines.

Subaru is producing a special edition of the WRX called the WRX TR which is set to be unveiled next month on October 7, 2023.

A report suggests that Mazda has greenlit rear-wheel drive, inline-six sedan, thanks to the CX-60 and CX-90 sales.
View More Articles