Having captain seats on a vehicle does lessen the seating capacity inside the vehicle. Though given its premium approach, the aircraft-like seating provides better comfort for passengers, notably, some even get special features like power-adjustability or a leg rest.
Currently, there are a lot of options in the market that offer models available with captain seats, ranging from midsize crossovers and SUVs to MPVs and larger vans which should suitable for hauling people. So if you're in the market for a vehicle with captain seats, then you might as well consider any of the following below.
Toyota Alphard
The Toyota Alphard has been a benchmark of luxury, with the van offering a range of convenience features to please its passengers. One of which includes its second-row captain seats that include power-adjustability for reclining and its leg rest. It's also wrapped in beige leather for that premium feel.
Toyota Hiace Super Grandia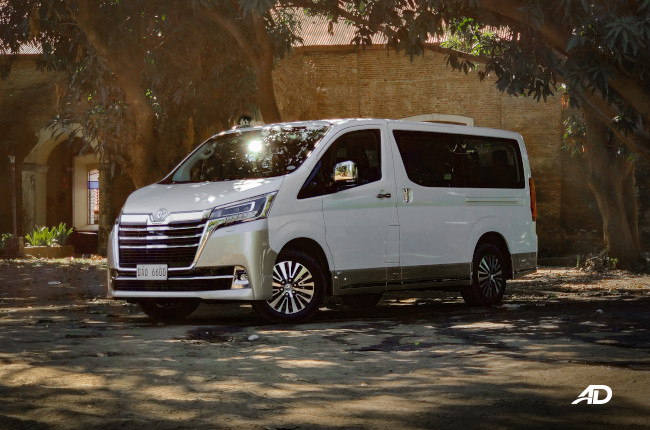 If you still want a van but something that's slightly more affordable than an Alphard, then you should consider the Toyota Hiace Super Grandia. Unlike the Alphard, the Super Grandia is run by a diesel engine, plus, it could also carry more passengers. It has a total of four rows, with both the second-row and third-row having captain seats. Notably, it's also more affordable than the Alphard, with its variant range starting at just under P2,600,000.
Toyota Innova
The Toyota Innova is indeed a common sighting on the road, as many Filipinos loved the performance and strong practicality of the MPV. While lower variants come with bench-type seats for the second-row, the range-topping V variant features a pair of second-row captain seats that are wrapped in orange fabric. Notably, it's one of the most affordable vehicles in the local market to come with captain seats.
GAC GN6
Next on the list is the GAC GN6, and it's the Chinese automaker's contender to the ever-popular Toyota Innova. It's even priced more affordable than the Innove V, with its sole variant retailing at just under P1,500,000. Though, unlike the Innova, the GN6's second-row captain's seats are treated with brown leather.
GAC GN8
What used to be known as the GM8 has now been renamed the GAC GN8. Notably, this van can go side by side with the Toyota Alphard given its extensive range of features. One unique quirk is that its second-row captain seats even come with a massage function, therefore giving passengers that VIP experience. More importantly, it's even more affordable than the Toyota, with it topping up at just under P3,000,000.
Ford Expedition
The Ford Expedition is sort of a land-yacht given its extensive dimensions. Aside from its state-of-the-art features, this full-size SUV has a lot to offer especially in terms of cabin space. Interested buyers could either opt for the bench-type seats for the second-row or captain seats which would cost a little more.
Hyundai Grand Starex
Frankly, the current Hyundai Grand Starex has been around in the market for quite some time now, and it's starting to show its age already. While other international markets already have the all-new Staria, which is the successor of the Starex, the Philippines still gets the outgoing model. For those who want to have captain seats, then buyers can opt for its Urban trim.
Hyundai Palisade
The Hyundai Palisade sits above the midsize Santa Fe, making it a more proper three-row crossover. Plus, unlike its smaller brother, the Palisade has captain seats which do offer superior comfort for second-row occupants.
Kia Carnival
Another family that you can opt for is the Kia Grand Carnival. It can either be had as an 11- or 7-seater. Now, if you're willing to sacrifice its seating capacity over a pair of second-row captain seats, then you can get the range-topping EX 7-seater at just under P2,400,000.
Maxus G10
Both variants of the Maxus G10 come standard with captain seats for the second and third row. What sets the higher trim apart is the addition of an Assist PWD seat which is a welcome feature especially for those with PWD family members who still want to get around. Prices range from P1,790,000 to P2,189,800.
Mazda CX-8
The Mazda CX-8 is currently the most well-balanced offering from the Japanese automaker. Even its base form, the midsize SUV already has a lot to offer, from its engaging driving dynamics to its premium interior. Between both variants, only the Exclusive trim can be had with captain seats.
Volkswagen Multivan Kombi
Last on the list is the Volkswagen Multivan Kombi, and like most minivans in its segment, it too features a well-appointed cabin. Convenience features include its second-row captain seats that are wrapped in fine Nappa leather. Unlike most captain chairs, the one on the Kombi can be swiveled, allowing second-row passengers to have a face-to-face setup with the third-row occupants. On top of that, there's also a multi-function, therefore turning the cabin into a meeting room or as a place to hang out while on the road.
So are you considering any of the following vehicles we've mentioned above? If yes, then, don't hesitate to click on the 'Get Quote' button—it's absolutely free. You could even request to test drive the cars so you would know what you'll like about them, first hand.
Latest Features
Priced right, engineered to be driven, and polished premium, the Mazda3 makes for a great daily driver for enthusiasts.

Cars come with the latest and greatest tech now with adaptive, automatic, and advanced systems, but is it worth it?

We created a quick list of cars you can buy today that will give you the most amount of horsepower for the lowest price.
View More Articles