It may be called a Yaris, but it's way more than that—it's the Yaris. There are a few that may be quick to dismiss the Toyota GR Yaris as an overpriced and just a souped-up version of Toyota's subcompact hatchback, but we're here to tell you that it is not the case.
While it may seem like the GR Yaris is a chunkier and more powerful version of the Yaris, it's far from the truth. The fact of the matter is, the Yaris is one of the most exciting cars in the Toyota lineup, and well worth the price tag. To understand the GR Yaris, you must know a few things about it and the culture of rally sport and the model itself.
It's not the Yaris that we know
The Philippine Toyota Yaris is quite different from the GR Yaris, and the global version of the Yaris. In fact, technically, the Toyota Vios is supposed to be under the Yaris nameplate, but the Yaris nameplate is a bit fragmented.
Even the Mazda2 was rebadged as a Yaris in North America, further adding to the confusion. In 2020, however, the model got a totally new platform called the XP210—the successor to the XP130/150, otherwise found in the third-generation Vios and Yaris for the Philippine market.
That being said, the GR Yaris is not solely based on the platform that its nameplate is built upon, but it is a combination of two Toyota New Global Architecture (TNGA) platforms, namely GA-B and GA-C. the 'B' refers to the B segment of cars which encompasses small and subcompact hatchbacks, while the 'C' pertains to the compact cars in Toyota's lineup—like the Corolla Altis. That being said, the GR Yaris is definitely a special car. While its platform is not ultra bespoke, it does take a lot of work for Toyota to adapt and engineer their TNGA platform to meet the performance requirements for racing. To think that this is an average run-of-the-mill Yaris is misguided.
Homologation
What is homologation? It seems like a bit of an alien term to most, but it simply means that is official approval from a governing body. The word homologation in the automotive industry is commonly used in racing, especially for rally sport. Rally cars usually hit the dirt and are based on cars that are being sold in the market, and FIA regulations state that there must be a minimum number of units produced in a span of 12 months. Usually, racing teams will take an existing car and modify it to compete in the sport. However, to get an edge on the competition, there are some cases where a manufacturer runs a certain number of units to meet homologation requirements.
Currently, the GR Yaris is set for a 25,000 unit production run, or more if demand for it is good. The problem is if demand doesn't push through and the sales of the GR Yaris don't meet expectations, Toyota will only produce 25,000 units, and that's the total production number for the world. Considering how limited the production run of the GR Yaris is, you will definitely have something that is one of a kind if you buy one. Homologation specials, like the GR Yaris, do not come often, and they are often limited and expensive models that are serious performance machines that are purpose-built to race—essentially a race car for the road. After the initial batch of GR Yaris units, you will be hard-pressed to find another one for sale, unless the demand for the car incentivizes Toyota to make more.
Although, due to the COVID-19 pandemic, and the cancellation of the FIA World Rally Championship (WRC), there is no real reason that Toyota needs to make the GR Yaris other than to further the GR brand. It was unfortunate that the FIA's announcement was made during the final stages of the GR Yaris' testing. It's actually rare to see such a story attached to a homologation special because it's essentially just a flex on Toyota's part that it still pushed through with selling the GR Yaris despite there being no real and immediate reason to—in other words, it's a race car without an event during the year of its homologation. In short, it will go down in history as the only homologation model to not set foot in a WRC event.
Hand-Built
Automation in the automotive industry is common, and it's hard to find a hand-built car with a hand-built engine. The Nissan GT-R springs to mind, but that's nearly four times the price. The GR Yaris is assembled by hand and is marked with a plaque to make it known that human hands have come into contact are responsible for making such a machine.
Just a three-cylinder?
"The normal Yaris has a 4-cylinder engine, the GR Yaris has three with a turbocharger. If you slap a turbocharger on the 4-cylinder, you will get figures like the GR Yaris, right?"
Sorry, but that's not the correct idea. See, engines are more complicated than that. Engine displacement is just a number these days, and it will depend on how the engine is designed and engineered. Because the GR Yaris is a rally car for the road, its engine is built differently. Made to take on the rigors of going blisteringly quick on the dirt, what seems to be a humble little three-cylinder is a beast in its own right. It has 1.6-liters of displacement which means that it's bigger than your average 4-cylinder engine, and it produces 257 hp and 360 Nm of torque. Now, there are other 3-cylinders out in the market from brands such as Geely. For instance, the Coolray's engine produces 171 hp and 255 Nm of torque, which is also from a three-cylinder motor. Not to take away from the GR Yaris, but getting about 100 hp from a small-displacement three-cylinder engine is quite the feat, and we know that Toyota can actually tune this engine to produce more power as a rally car. To put things into context, rally cars can reach insane amounts of horsepower and torque. We're not saying that the GR Yaris can handle that amount of power out of the factory in its homologation spec, but quite a few rally cars are known to produce north of 500 horsepower, or thereabout depending on the regulations. Currently, the GR Yaris rally car makes 380 horsepower with 425 Nm of torque.
All-wheel-drive
This isn't the same all-wheel-drive system that you will find in your mother's crossover or SUV. Toyota's motorsports division, Gazoo Racing (GR), developed this drivetrain and transmission combo in order to perform. That being said, you have front and rear differentials which are race-developed and ready to perform right out of the box. In rally sport, it's not uncommon for cars to slide in the dirt since some corners are tight and the racecar driver practically needs to make a U-turn as fast as possible. To do this, usually, the handbrake is used to lock the rear wheels and slide the car's tail until it's pointing in the right direction. Toyota has developed a system where it decouples the rear differential whenever the handbrake is pulled. While there is a benefit in racing, you won't really need this feature on the road unless you want to get into trouble.
That being said, The GR Yaris is a superb performer even on dirt roads. The AWD system will also help the car accelerate from 0-100 km/h in 5.5 seconds, as claimed by Toyota. That's two times as quick as your normal subcompact hatchback. AWD also helps the car find traction and launch off the line harder, and you also get to choose how much power goes to the front and rear wheels. Take note that these are stock and claimed figures. Real-world tests might net different results depending on the condition.
Racing chassis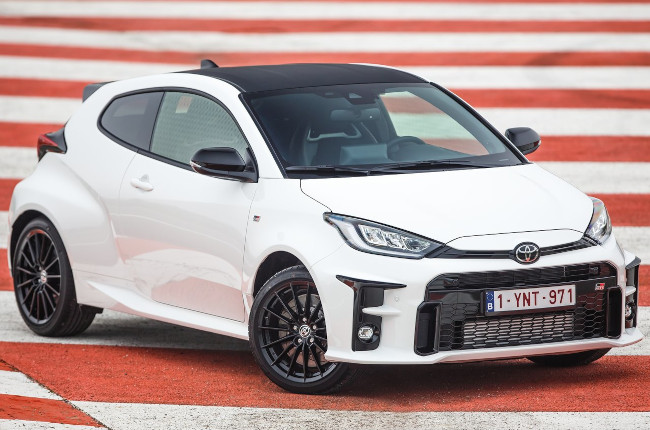 A typical Yaris will have a conventional suspension setup, but the GR Yaris is reworked and refined for performance. While it keeps the MacPherson strut in the front suspension, the rear is home to a double-wishbone setup—which is a very expensive and performance-oriented type of suspension. On top of that—literally—the chassis is engineered to be stiff and rigid. Extra welds, stronger aluminum, sway bars, and stiffening beams all make the GR Yaris a sharp performer in the corners.
You also get powerful GR-branded brakes that have four pistons to really clamp down on the 356 mm two-piece rotors. On top of this, you can also get the GR Yaris with either cast wheels or forged wheels. Forged alloy wheels are typically lighter than the standard cast set, and are a rarity that is mostly found in high-performance exotic cars.
It's rare that the Philippines gets cars like these
Rarer trim levels like homologation specials are often imported from other countries. The point is, the Philippines doesn't often get the best stuff. In the case of Honda, we got the Civic sedan and the Civic Type R, but we missed out on other Civic variants like the Si, which is a popular car in the United States. While there are times when a manufacturer gussies up and announce that they will be selling an exciting model in the country, it's likely that only a few units will arrive.
In the 1990s, Nissan Philippines brought in 70 units of the Nissan S14 Silvia. This car was a rear-wheel-drive two-door coupe that is extremely popular with car enthusiasts. With only 70 in the country, quite a few people who missed the opportunity to get such a car resorted to importing and subsequently converting Silvias to left-hand-drive, an endeavor that is tedious and often is imprecise. There is value in an original left-hand-drive vehicle that is registered and sold locally.
That being said, fanatics of the GR Yaris have a couple of incentives to purchase the vehicle. The first is that it will be registered in the country and will have the paperwork for a brand new vehicle. Second, there is no need to rely on grey market imports as long as you've put your name on the waiting list or have penned in your order to Toyota. The third is that it is a homologation special, meaning that it will only be produced for a certain amount of time, and it's a performance machine that is road-legal. It's a rare honor to own a locally-sold, locally-registered, original left-hand-drive, a homologation special that is built as a rally car for the road, and on top of all of this, it's bound to become a collector's item seeing as there will only be a few thousand in the world. It's that level of special that makes the GR Yaris such an enticing and worthwhile purchase provided you have the appreciation for it. Yes, we know that not everyone can afford such a car, but to those who can, the only other problem is getting on that waiting list.
Alternatives?
Uh… Unfortunately, there are no homologation specials that you can buy for P2,650,000, but there are a bunch of other performance cars that you can get for around the same price. Subaru springs to mind when talking about rally-racing machines, however, the WRX STi isn't the sharpest in its class anymore. The engine produces more power at the expense of weight, and the engine itself is quite dated, as the EJ series of motors have been around since the early 90s.
Another alternative would be the Honda Civic Type R. There are still some units left in dealerships, so act fast if you want your own. Globally, the Civic Type R isn't limited, but in the Philippines, only 200 units were made available. To the team, it's one of the best performance hatchbacks that you can buy, and a fan favorite of the Honda community in the Philippines. It's larger than the GR Yaris, but it's no homologation special. It's front-wheel-drive which may put off rally fans, but one cannot deny that it is a capable performer as well as a surprisingly good daily driver.
If a convertible is more your speed, then a Mazda MX-5 should be on your shortlist. While it's not a limited model, it doesn't have a turbocharged engine, and it's not a rally car by any means, it's the most affordable model in the list of alternatives. Is it comparable to the GR Yaris? Absolutely not. Is it more affordable? Absolutely yes! Will, it put a smile on your face? Perhaps. If it's more your speed and budget for a car that you can enjoy day-in and day-out. Sure a sunroof is good, but a drop-top is just plain better.
Other alternatives if you have about P3,000,000 weighing down your wallet? Well, you also have the Ford Mustang. If you're into American V8s, then the Ford Mustang could be the car for you. The thing is, it's not a rally car, nor is it a race car, but if you just want to enjoy it's there for you to use. Just make sure to get the top-of-the-line GT trims available in a ragtop or a hardtop—the latter of which is more affordable.
If you're more of a Korean fan, then the Kia Stinger will be able to give you quite a bit of excitement. It's an amazing machine that is meant to go long distances and look good while doing it. It's more luxurious than it is sporty, however, but don't let its lush leather fool you into thinking it can't go like a bat out of hell.
That being said… We honestly don't have a straight-on comparison for the Toyota GR Yaris. Most of the models we featured as alternatives are all either more expensive or don't necessarily compare. The GR Yaris is its own kind of special, and it's a wonder if Toyota is actually making money off of every GR Yaris sold. It's definitely a unique model, and it's something extremely special. There may not be another homologation special in the country for a very long time, so act now or forever hold your peace.
Get the best deal - Choose multiple dealerships to compare offers!
You can compare quotations simultaneously from multiple Toyota dealerships. Select your preferred dealers from the list below.

Compare quotations from multiple dealerships in minutes.
Check vehicle and color availability.
Find info on special offers and promotions.
100% Hassle-free with no obligation to purchase.
Latest Features
Manufacturers are leaving the conventional dials in favor of TFT clusters in pursuit of innovation and clean designs.

The Ford Bronco is the perfect blend of style and capability for the Philippines that warrants its entry locally.

The Ranger Raptor is the best it's ever been, so here's what makes the 2023 model so special.
View More Articles