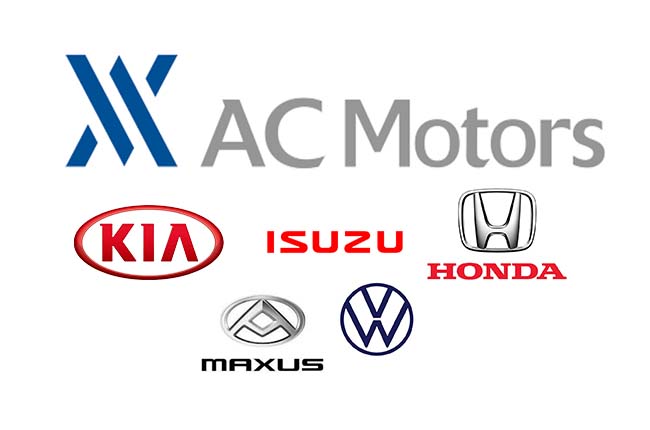 AC Motors the automotive arm of the Ayala Corporation which handles brands such as Isuzu, Honda, Kia, Maxus, and Volkswagen has just launched a web seminar entitled "The Mechanic" which deals with how you should take care of your car during the COVID-19 pandemic. The near-hour long seminar tackles several topics including a bit of information about the virus and how best to keep your vehicle clean.
The seminar features three speakers and is divided into three parts. The first part tackles the Coronavirus and knowing a bit more about its origins and how it functions. For this section of the seminar, it is handled by Dr. Harold Trinidad M.D. a doctor who specializes in occupational medicine and medical acupuncture. The second part goes in-depth about how you should keep your car clean during the quarantine. This part of the program is also handled by Dr. Trinidad. The segment is especially useful for frontline workers as the virus can live in or on your vehicle for 4 up to 7 days. The last part of the seminar is handled by Mr. Geronimo Campilan the national service manager of Kia Philippines. The last segment of the seminar deals with what you should not do while cleaning your vehicle and how to prepare it for long term storage.
Making sure your vehicle is clean during the quarantine
Calculate your exposure risks
If you will be using your car during the quarantine it is important that you minimize the number of passengers as it can also reduce the risk of infection. The seminar recommends that you do not turn on your air recirculation to keep fresh air flowing inside the vehicle for intermittent periods. If you wish to keep recirculation on you can opt to open the driver and passenger windows slightly. If you really need to bring people with you it is highly recommended to sit diagonally from the driver and practice social distancing. Even while in your vehicle it is recommended that you should still use a mask and gloves to further reduce the risk of infection.
Keep your car clean and safe from Viruses
In order to keep your car clean, you also need to prepare yourself. You can do this by wearing a mask and gloves. If you need to clean your vehicle make sure to use only 70% alcohol or mild soap and water. Using a higher percentage of alcohol may end up damaging plastic components in your interior. In order to clean effectively, it is recommended that you use a microfiber cloth. When cleaning the outside of your vehicle use soap and water, make sure to clean the trunk, door handles, and side-view mirrors. After you've cleaned your vehicle make sure to disinfect yourself as well as contaminants could stick to you as you clean your vehicle.
What not to do when cleaning your vehicle
The seminar states that you should not use bleach to clean your vehicle. While it is effective an effective product for killing the virus it can damage your interior trim. It is also not recommended that you scrub too hard as doing so will cause physical damage to interior plastics and components. Too much soap and water can also be detrimental to your car's interior as there is sensitive electronics present. After cleaning your vehicle make sure to clean yourself as well as possible contaminants can also stick to you while cleaning.
Taking care of your car while not in use
Making sure you don't have rust in your gas tank
Make sure your gas tank is at least ¼ full. This prevents rust forming. The more fuel you have, the better. Modern gasoline has a shelf life of between 3-5 years so you don't have to worry about your fuel turning into varnish during the quarantine period.
Maintaining your battery
Idle or run your car at 1,500 RPM for 15-20 mins this gives your alternator time to keep your battery's charge topped up. Make sure to do this with the hood open. This is best paired with a trickle charger.
Park in a secure location
When putting your vehicle into long term storage make sure to put your gear selector into P for automatic vehicles and into first gear or reverse for manual transmission vehicles. Do not apply the handbrake as this ensures that your brakes will not cease up during storage.
Parking on an inclined road
When parking on a downhill road make sure to turn your wheels to face the curb. In case your brakes slip or fail the wheels will hit the curb and prevent your car from rolling away. (Turn to the right.) When parking on an uphill road turn your wheels away from the curb this way if your brakes fail your vehicle will roll in reverse allow the wheels to hit the curb and stop your car. (Turn to the left.) For an uphill road without a curb or gutter, it is advised that you turn your wheel to the right this way your vehicle will not roll down the road but instead catch itself if the brakes fail.
Avoid flat tire spots during long term storage
Drive out of the garage and park in the opposite direction. Do this every 3-4 days. This prevents flat spots from forming which can cause unwanted vibrations during driving. Make sure you have enough air in your tires.
Protecting your engine from unwanted pests
Mix 1-cup ammonia and 1-cup white vinegar in a spray bottle. Spray the mixture on the ground around the vehicle and on all four tires and under the vehicle as well. Use mothballs or naphthalene balls. Place these inside an empty water bottle place it under the vehicle and on all four tires. Putting one inside the engine bay near the battery helps as well. For extreme cases Rat poison or zinc phosphide in a sachet.
Latest News
Set to rise in 2024, the CCLEX Drive & Dine will combine the diverse flavors of the region in one convenient location.

Astara Philippines appoints Arlan Reyes as the brand head for two car brands under its distributorship, JMC and Peugeot.

Ford has a reason for you to be jolly this Christmas. For its Year-End-Sale, the Territory and Ranger are on promo.
View More Articles